News
What Does it Take to Democratize Real Estate Investment?
What Motivated Japanese Real Estate Crowdfunding Pioneer SYLA to Seek a US Listing?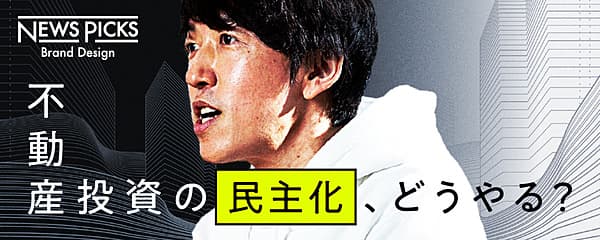 The real estate investment landscape is on the verge of a seismic change. PropTech, the innovative fusion of property and technology, is spreading rapidly, reshaping the way people buy, sell, research, market, and manage real estate properties. Amid this, real estate crowdfunding platforms are experiencing explosive growth. These services with low investment minimums allow users to pool their money online and purchase property (or a share of a property) as a group—all from the convenience of their smartphones.

At the forefront of this movement is Japan's real estate crowdfunding industry leader SYLA Technologies, a company which has set out to "democratize real estate investment around the world" and was newly listed on the Nasdaq Capital Market in March 2023.

Founded in 2010, the company had originally focused on the development and sale of studio apartments for investment purposes. Later however, with the release of its real estate crowdfunding platform "Rimawari-kun" in June 2021, the company pivoted towards the bourgeoning PropTech sector.

Hiroyuki Sugimoto—Chairman of the Board, Group Executive Officer, and CEO of the company—is confident in his company's ability to compete globally in the field of real estate crowdfunding. We sat down with Mr. Sugimoto to delve into the company's roadmap to success after its IPO and explore his vision for revolutionizing the world of real estate investment.

Unleashing the Collective Power of Individuals in Real Estate Investment
–– SYLA Technologies was listed on the Nasdaq in March 2023. What made you want to seek a listing in the US?
Sugimoto: To put it simply, we considered two factors: what sets us apart from the competition, and the current state of the market. We felt that these were well-aligned for us to succeed in the US.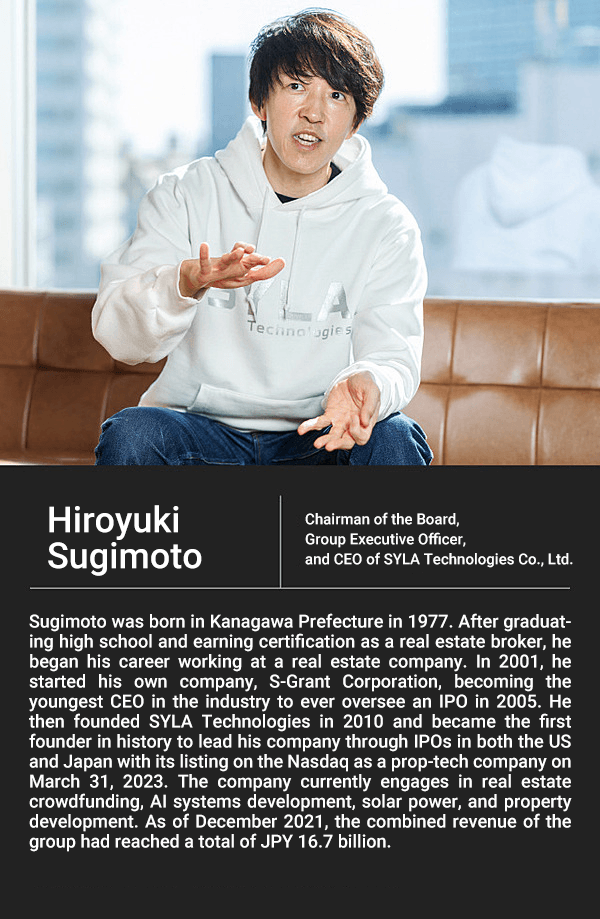 We had our sights set on a listing in Japan from the moment we launched our real estate crowdfunding service "Rimawari-kun" in June 2021. And by the end of that year, we had already made the decision to take on the US market, simply because of the sheer scale of fundraising opportunities available there.

So, what exactly made us pursue real estate crowdfunding?

Well, the crowdfunding market is expanding at a rapid pace worldwide. The fact that it's still in its infancy also meant that we could still be competitive on the global stage. Looking ahead 10 to 20 years in the future, one thing was clear: for us to continue our business in the digital domain, we needed to be in the crowdsourcing market—that choice was inevitable.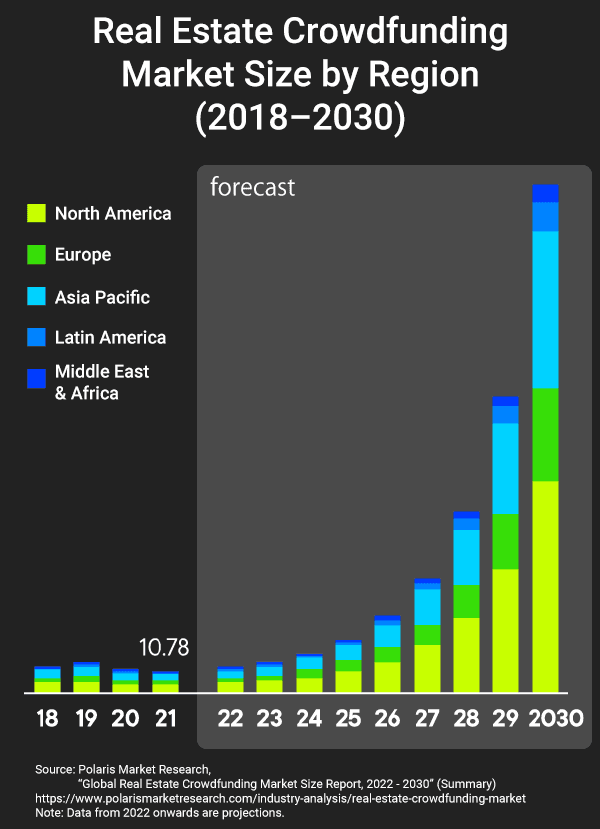 The future is all about the collective power of individuals. This really became evident to me with the sensational IPO of Robinhood, the US-based operator of a stock trading and investment app targeting retail investors.

The world saw individual investors come together to move billions and billions of dollars and trigger a short squeeze for hedge funds that had been shorting certain stocks. This opened my eyes to what was possible when individuals joined forces towards a common goal, and I also saw the ripple effects from this story that served as a catalyst for promoting the democratization of securities trading across the industry.

While not everyone is thrilled with how things turned out in the end, it really felt like the beginning of a new era to me, and I believe that crowdfunding has similar potential for bringing about impactful change.

By harnessing the power of technology, more people can gain entry to the world of real estate investment, which has traditionally been the realm of the wealthy. In other words, I think that real estate crowdfunding will be used as a means of democratizing real estate investment.

We've all seen borrowing rates in the US rise from 2% to 7% over the past year. Meanwhile, Japan has continued to ease its monetary policy.

As the yen continues to devalue, more and more institutional investors are starting to turn their attention to Japanese real estate, which has become more affordable relative to other countries.

With this situation expected to continue for some time, we saw an opportunity to begin carving out a place in the US market—which is headed for recession—while maintaining a strong foothold in Japan.

The largest real estate crowdfunding platform in the US is currently Fundrise with over 380,000 users, followed by RealtyMogul with over 270,000. Our Rimawari-kun platform currently has around 250,000 registered users. From a perspective of both total membership and invested capital, we're not that far off from these companies.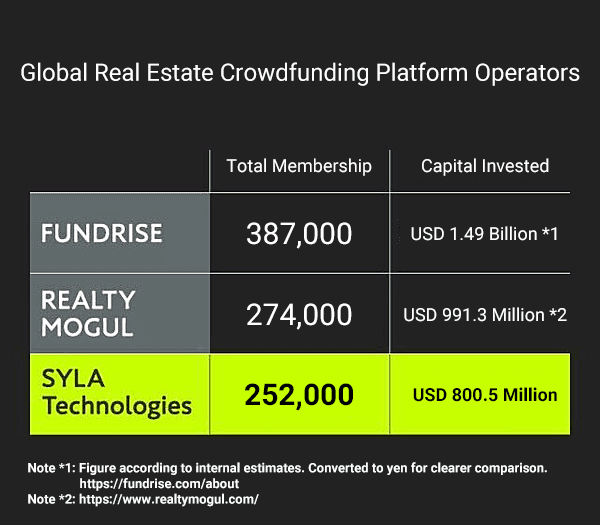 In fact, considering the scale of its economy—which attracts investment from around the world—going public on the Nasdaq and taking our chances in the US market is well worth the risk.

Of course, while I couldn't know just how we would be valued when we brought our business to the US, I was excited by all the possibilities that come along with giving it our all to try and become the best in the world.
–– What was the response like from US investors?
As part of our roadshow leading up to the IPO, we pitched to over 50 potential investors in the US. Many of them expressed interest in the potential for a real estate crowdfunding platform from Japan, given the slowdown in the market for US properties and the current allure of the Japanese market.

While some were less than optimistic, I still enjoyed the thrill of debating with them. The enormity of the market, the generosity shown to those willing to take a risk, and the way everyone is constantly keeping an eye on the global real estate business—compared to Japan, everything was simply on another level in the US.

In terms of real estate crowdfunding, the US may be five years ahead in the field, but there's no doubt that the market is set to expand in Japan as well.

At SYLA, our goal is to continuously refine our ideas and incorporate new technology to give our users seamless access to all real estate transactions right from their smartphones. After speaking with investors in the US, I'm confident that we're on the right path.
Attracting Funding with Effective Content
–– Rimawari-kun allows users to start investing in real estate from their smartphone in as little as ten minutes and from as low as JPY 10,000. But how exactly does this differ from traditional real estate investment?
The biggest thing that sets Rimawari-kun apart is that users can start small, as investment minimums are fairly low.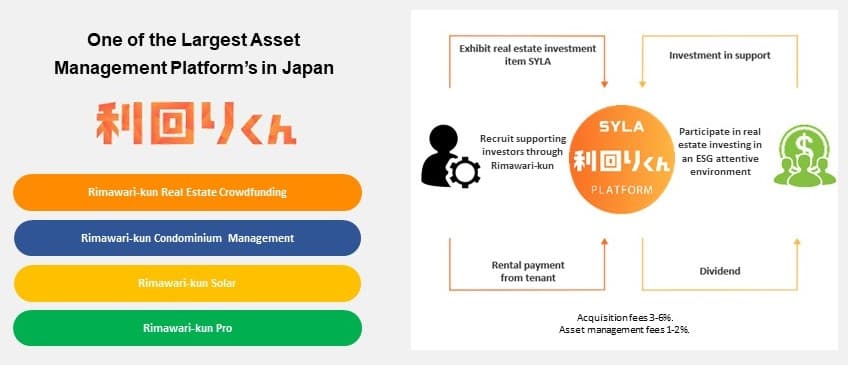 To give you an example, we set up a fund to construct a rocket development facility for Interstellar Technologies (IST), a Japanese startup in the aerospace industry founded by Takafumi Horie in Taiki Town, Hokkaido.

After initially being turned down by banks, Mr. Horie had been planning to finance construction of the facility with government subsidies but ultimately came to us for advice. When we opened the project to the public, it raised JPY 300 million in just two days. With that kind of momentum, it was hard to believe that no bank wanted to be a part of this project.

In the end, the project raised a total of JPY 412.22 million and even went on to launch a second and third round. That's when I realized the true extent of what was possible with the collective power of individuals on our platform.

Some investors were intrigued by the potential of a project backed by Mr. Horie specifically. Others simply wanted to show support for rocket development or give something back to their local economy. At the end of the day, though, what they all had in common was that they could relate to the project they were supporting in one way or another.

Ultimately, IST was able to attract substantial funding—even enough for the additional construction of a restaurant and employee housing—without having to shift their focus away from rocket development. The facility has also brought more people to the town, which has resulted in improvements to its infrastructure and the first significant increases in its GDP and population in 24 years. It's truly been a perfect example of how projects like this can go beyond simple revitalization and really invigorate a local economy.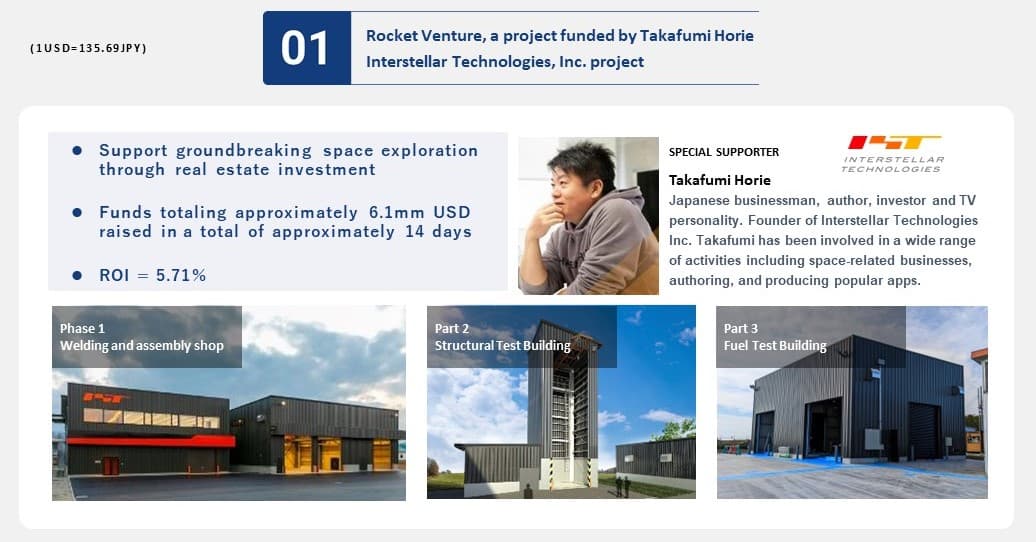 As word spread of this project's success, other projects were also launched around the country to finance the construction of J-League (soccer) and B.League (basketball) stadiums, pet-friendly condominiums, and disability services centers.

Collaborating with local governments on public sectors projects is another thing we'd like to explore going forward.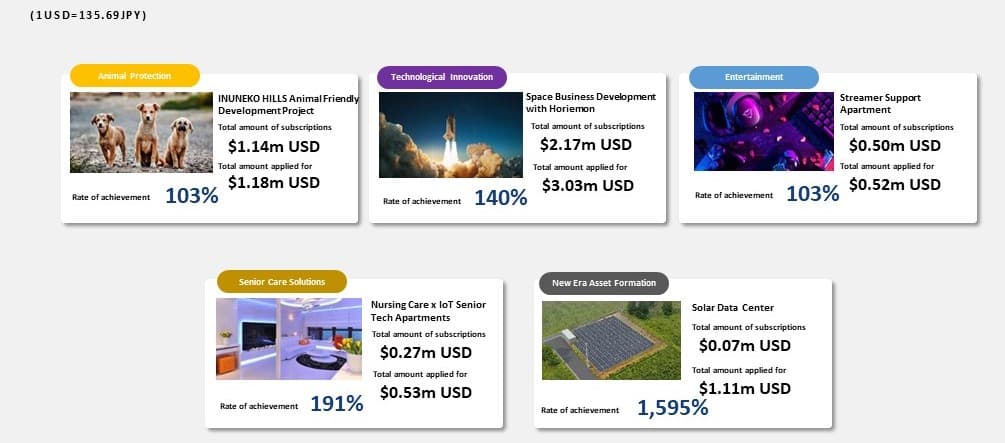 One potential avenue could be vacant municipal housing that can't be remodeled or torn down and rebuilt due to a lack of budget. Rimawari-kun could be used to raise the necessary funds, and SYLA could build new properties tailored to the needs of the target demographics, like single people or families with children.

Doing so would not only reduce the burden on taxpayers for refurbishing such properties and allow them to be utilized effectively, but it would also provide a source of income for the municipality itself, as they will actually be able to rent out units in those new properties. This sort of PFI(*) is exactly what we're striving to accomplish through crowdfunding.

Note (*): A private finance initiative (PFI) is a financing method which leverages private sector resources (funding, management, and technology) for the building, maintenance, and operation of municipal facilities and other public sector infrastructure.

Through real estate crowdfunding, properties which have become liabilities for local governments can be given new life using contributions of capital from local citizens.

Given that this approach basically tries to resolve some of the structural issues facing Japan with private citizen's funds, introducing some sort of a tax break along the lines of the Furusato Nozei (Hometown Tax) System for those that invest could attract even more capital and lead to even greater revitalization of regional communities.

These are the kinds of ideas we'd like to discuss with local governments moving forward.
–– The ease of investment using just your phone is a fairly new concept in this industry. How has it affected the market?
In the past, investing in real estate used to require hundreds of thousands or even millions of dollars. It goes without saying that at that price, any investor is going to be very picky about the property they choose.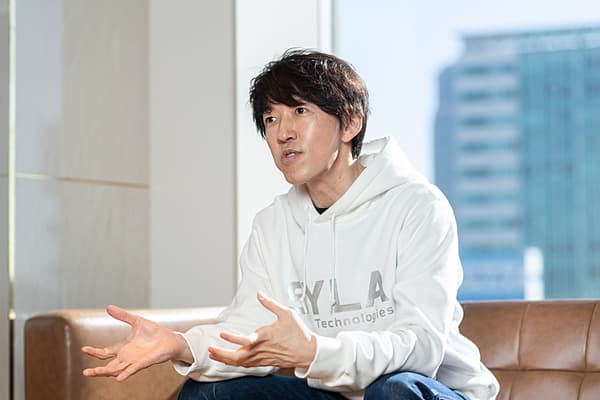 With Rimawari-kun, though, users can take a much more relaxed approach to investing—and they can do it all from their smartphones.

If a user likes what they see from the promotional video for a property, they can invest immediately. Because everything—including identity confirmation—is handled online through their phone, transactions are generally completed in around ten minutes.

I'm sure there are many people who would be interested in real estate investment knowing that it only takes 10 minutes and all they need is their smartphone. In fact, most active users on the Rimawari-kun platform are in their late 20s and 30s.

The way we see it, to survive as a real estate company in the future, we need to act now. We need to optimize the platform to fit this demographic's behavioral patterns, and build up a truly online-first service.

Ten years from now, Generation Z and Millennials will make up the core of our target market. In order to survive, we believe it will be necessary to carve out a place in the market through the use of cutting-edge AI technology and big data.

Technology is not always the solution, though—even for a tech company. Therefore, we must keep the OMO (Online Merges with Offline) approach in mind and learn to strike a balance between online and offline operations. If we want to see continued growth, this is the blueprint we must follow.
Partnering with Rakuten to Hit Two Million Members
–– You've been in a business and capital tie-up with Rakuten since December 2021. What was the thinking behind that decision and what are your future plans?
When I first approached Rakuten about establishing a business and capital alliance, Mr. Mikitani (CEO of Rakuten, Inc.) asked me, "With annual revenue of over 2 trillion yen, how would Rakuten benefit from partnering with SYLA Technologies, which earns around 100 times less?"

Rakuten has around 100 million registered users in Japan and across Asia. Even if only 1% of those users were interested in real estate investment, that's a potential market of one million people. If they each bought a property valued at JPY 300,000, that would work out to a total of JPY 300 billion in revenue.

For us, it was all about gaining access to Rakuten's user base. Even converting just 1% of Rakuten users would lead to massive earnings.

What's more, while it normally costs an average of JPY 80,000 in advertising to register one user with an interest in real estate investment and JPY 1.5 million to get them to purchase a condominium, leveraging Rakuten's user base has enabled us to cut our marketing spend by more than 95%.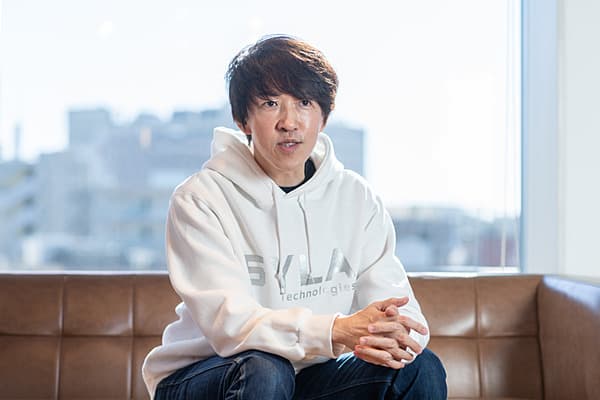 Users seeking to maximize reward points typically have a keen interest in wealth-building, and I think it's fair to say that this mindset is highly compatible with real estate investment. This is backed up by the relatively high conversion rate of visitors from Rakuten sites into users of Rimawari-kun, which has held firm at around 16%.

So, what does Rakuten get out of it? Well, Rimawari-kun is currently growing at a pace of around 100 new users every day. These users can receive one Rakuten point just for logging in, another 100 points each year on their birthday, and anywhere from 150,000–300,000 points depending on which of our products they purchase and what their membership rank is at Rakuten.

The more Rakuten members we attract and the more those members invest on our platform, the more we pay Rakuten for those points. From Rakuten's perspective, you could almost say we're a bit like a personal cash dispenser.

In fact, we've already taken the next step towards taking our partnership to the next level.

From May 2023, our users will be able to link a Rimawari-kun account to their Rakuten ID. This will not only enable the use of Rakuten points for investment, but also eliminate the need for registering on the platform. Users with existing Rakuten IDs will be able to invest seamlessly on Rimawari-kun without going through any additional processes.

Our initial expectations were to acquire one million new users over the long term. Given our success to date, though, we believe that a KPI of two million users is within the realm of possibility.
A Successful Strategy Built Upon Past Failures
–– Before starting SYLA Technologies, you founded S-Grant Corporation. Looking back on your experience as the youngest CEO in the industry to ever oversee an IPO and then being driven into bankruptcy by the global financial crisis, how does this IPO feel different?
At S-Grant, we were running a business worth over JPY 30 billion with less than JPY 4 billion in equity capital.

Because we were engaged in real estate in the traditional sense—buy a property then sell it, rinse and repeat—when the financial crisis hit, we found ourselves at the complete mercy of the market.

That failure taught me the importance of diversifying exit strategies and maintaining multiple balance sheets.

At SYLA, our operations are not limited to the Rimawari-kun platform. We have also been increasing the number of properties we hold onto and manage long-term, and in addition to managing funds over which we retain full control, we are also looking to add more office buildings and family-oriented properties to our portfolio.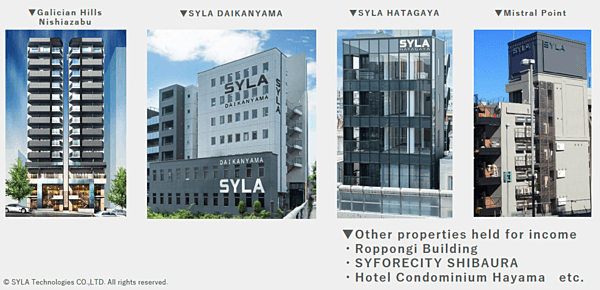 We plan to use our listing in the US as a springboard for establishing a subsidiary in San Diego for launching a new property renovation business. We've also got our eyes set on solar power and biomass power generation.

Right now, the Rimawari-kun platform may be our main business and account for 70% of our earnings, but we aim to take a well-balanced approach to growth by diversifying into different areas that have synergies with real estate. We also intend to maintain an equity ratio of 30% and to always have a cash flow equivalent to two years of SG&A expenses.

I guess if I were to compare the two experiences, I'd have to say that, on the one hand, I'm older now and more likely to shy away from a risk. On the other hand, though, that's allowed me to build a more robust company that is better prepared to take risks.

A company without a solid foundation cannot hope to bring about a meaningful change in our society. By achieving that stability, we can begin to seriously look at how we can make our customers happy while also ensuring the company remains profitable.

Our company policy of late has been to keep calm and maintain a clear view of the entire business. This approach also served us well during the listing process. It allowed me to remain calm and collected in front of the auditors and to consistently project the mindset that building a successful company was our top priority—that the listing itself was not the goal.

––With your efforts to popularize real estate crowdfunding, in what ways do you hope to change the industry?
Individual investors have long been the silent majority in the world of real estate investment because they could not match the financial muscle of bigger players. The advent of real estate crowdfunding, however, has broadened the base of potential investors who can now easily invest from their smartphones.

Not all of these investors are simply looking to build their wealth. Some want to invest in individuals they believe in. Some are more interested in backing projects that will revitalize local economies and contribute to society. Either way, the result is the same: fund-seekers end up having an easier time raising capital, society ends up benefiting from the realized projects, and investors get to grow their future assets. Everybody wins.

Some may think, "What happens if another financial crisis hits?" While it's true that prices of luxury properties plummeted in the wake of the last crisis, the market for studio apartments saw very little change. In fact, some individual investors actually capitalized with timely purchases of temporarily undervalued properties.

I think this will also hold true for real estate crowdfunding. With investments starting from as little as JPY 10,000, I feel confident that we'd still see a good deal of investing, even amid a recession. Doubly so if those investors can do it as a casual extension of the efforts they're already making to maximize reward points.

However you look at it, though, we're sitting on a whopping JPY 1.1 quadrillion in cash and savings in this country. If we managed to move even just 1% of that amount, we're talking about JPY 11 trillion in assets. Compared to Europe, the US, and other Asian countries, Japan is lagging far behind in terms of investment. That is why we now have a lower per-capita GDP than South Korea, and that is why we're no longer considered by some to be a leading economy.

At SYLA, we want to do something about it.

We want to democratize real estate investment. We want to harness the power of real estate crowdfunding by empowering the silent majority to pool their capital and go toe-to-toe with the "big guys" in the real estate investment market. In doing so, we will make effective use of technology and asset management to enrich the lives of many and bring new life to regional economies. That is our vision.

There's no doubt in my mind that, within the next five to ten years, the bulk of real estate investing will take place online. I'm convinced that it will be the collective power of individuals that brings about this shift, rewriting conventional wisdom in the real estate market in the process.